Bavaria German Restaurant
Main Course:
$8.00 - $28.00
is:
Casual Dining
Outdoor Dining
Indoor Dining
Accepts:

Meals:
Dinner, Take Out
Serves:
Vegetarian
Kidsmenu
Bavaria German Restaurant
Palm Beach 186
Aruba
Tel:
+(297) - 736 4007
Opening Hours:
Monday - Saturday 5 pm - 10.30 pm
Closed on Sunday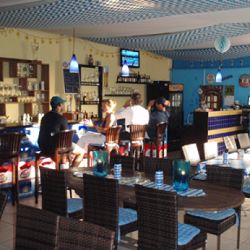 If you are looking for fresh cooked food at moderate prices or just want to enjoy a drink - BAVARIA Restaurant is the place for you !
Drink an ice cold beer and taste traditional German food in relaxing atmosphere at the beer garden
or inside the air conditioned restaurant.

Good food and friendly service is guaranteed !
Restaurant page views: 112,245