Smokey Joe's Island Grill
Main Course:
$17.00 - $28.00
is:
Casual Dining
Outdoor Dining
Accepts:

Meals:
Dinner
Serves:

Ratings & more:

Smokey Joe's Island Grill
Juan E. Irausquin Blvd.87
Aruba
Tel:
+(297) - 586 2896
Opening Hours:
Early Bird Special: 5pm to 6pm
Dinner: 5pm to 11pm
Bar:
5pm to Midnight Sunday to Thursday
5pm to 1am on Friday and Saturday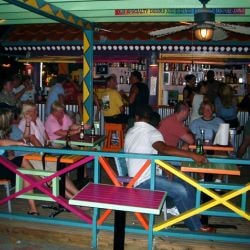 Smokey Joe's offers alfresco dining in a colorful festive atmosphere. "We only serve fresh caught local fish…", says executive chef Jose Lago, "...so don't expect to find salmon and trout on our menu!". We also feature open-fire rotisserie-grilled chicken, and for the meat lover, our thick-cut tender Argentine grass-fed filet mignon is sure to hit the spot. But our ultimate treat has to be the fingerlicking enjoyment of eating our grilled baby back ribs, truly the "Best Ribs in the CARIBBEAN!".
Restaurant page views: 105,775