Yemanja Woodfired Grill
Cuisine(s):
Caribbean
,
Steakhouse
Main Course:
$28.00 - $40.00
is:
Fine Dining
Outdoor Dining
Indoor Dining
Accepts:

Meals:
Dinner
Serves:
Vegetarian
Ratings & more:
Excellent!
Free WiFi
Yemanja Woodfired Grill
Wilhelminastraat2
Aruba
Tel:
(+297) 588 4711
Opening Hours:
Daily open Kitchen hours 5:30pm - 10:30pm
Closed on Sundays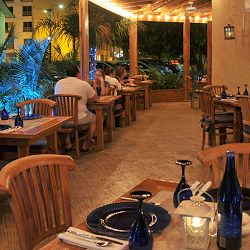 Aruba-s only wood-fired grill restaurant! Beautifully situated in downtown Oranjestad, behind the Renaissance Hotel. Yemanja is relaxing and welcoming, with a passion for tradition and excellence. Seating is either inside (air-conditioned) or outside on a cozy terrace. Serving innovative Caribbean cuisine. Locally-caught fish, shrimp, prime cuts of beef, lamb, pork, duck and poultry are all prepared over a wood fire using mesquite and hickory. Also our appetizers & salads are a real treat! The result is succulent, tender and flavorful dishes that only wood-fire grilling can produce.
We hope we may welcome you soon here in Yemanja.
Restaurant page views: 245,971