Bingo! Cafe & Restaurant
Cuisine(s):
Caribbean
,
Dutch
,
International
Main Course:
$22.00 - $30.00
is:
Casual Dining
Outdoor Dining
Indoor Dining
Accepts:

Meals:
Dinner, Lunch, Take Out
Serves:

Ratings & more:
Good!
Free WiFi
Bingo! Cafe & Restaurant
Palm Beach 6 D
Aruba
Tel:
+(297) - 586 2818
Opening Hours:
Bar from 11 am till 2 am
Kitchen from 11 am till 11 pm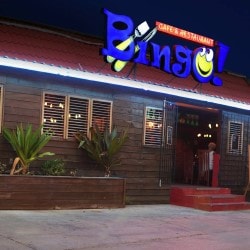 Bingo is an authentic Dutch bar with a fabulous ambiance. But besides the bar, Bingo has a huge terrace where excellent food is served against very modest prices. We have a very good and creative team in the lead of chef Ton van de Mark. He brings the best above in food by being innovative and renewing with the menu and the specials day by day.
Restaurant page views: 98,062